Dog Votes™ Launches Zazzle Stamp!
We're so excited - we just had to share! My Dog Votes™, the tshirt company dedicated to Saving Dogs & Democracy™, now has its own stamp on Zazzle!
We couldn't wait to tell you, because you'll certainly want to share the good news (and our new stamp) with all of your friends, family and your favorite local elected officials!
Share it with the world! Use the My Dog Votes™ Zazzle Stamp on every piece of written correspondence (and all your bills) that you send. Now you can send them some fresh inspiration with every stamp you lick!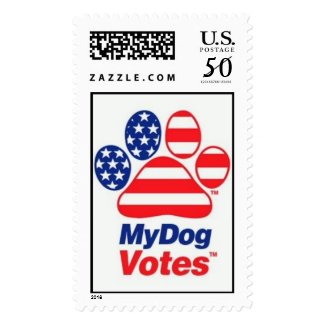 My Dog Votes In The USA Stamp
by
MyDogVotes
Get this
custom postage
at
Zazzle
OK, all you dog lovers! Lick a stamp and help lick voter apathy! And remember - Please vote in your next local election!
We LOVE Zazzle! Zazzle ROCKS!
:-)))