It's Valentine's Day, and our celebration of love included our very special dog and a joyful soul, The Princess Zsa Zsa. Our hearts are full of the endless love Zsa Zsa shares with us each day.
But elsewhere, hearts are breaking - and fear and darkness are spreading as more cities across the US, Canada, the U.K. - even around the world - round up, seize and kill innocent dogs because they are the "wrong breed". That's just plain wrong.
Here in New York, Peter Vallone, that "animal rights" advocate and city councilman from Queens, recently announced his intention to overturn state law and allow towns across New York to enact breed bans. To that we say - Oh yeah?
And phooey - not to mention he won't be getting my vote anytime soon.
So My Dog Votes™, (that tiny t-shirt company with a big mission of Saving Dogs & Democracy™), has decided to launch a new collection of clothing and accessories designed to send a clear message to Mr. Vallone, and all the other greedy, opportunistic - dare we say dog-hating politicians.
It's a universal message that dog lovers - and all kinds of people - can share no matter where they live, no matter who they are, no matter the country or the color of their skin, no matter what breed of dog they own...............
Love Does Not Discriminate
The Love Does Not Discriminate™ Collection, by yours truly, My Dog Votes™ , debuted in New York City, on February 14th - Valentine's Day, on the heels of the Westminster Kennel Club Dog Show.
The new web site www.LoveDoesNotDiscriminate.com - is a place where dog lovers can not only shop - it's a place to help educate the public about breed specific legislation and other discriminatory measures.
(Ssshhhhhhh - Just in case you did already know - My Dog Votes™ is a that crazy company that merges fashion, shopping and advocacy and has a goal of ending of breed discrimination and inspiring adoption of homeless dogs, especially targeted breeds.)
Shop For Love
The Love Does Not Discriminate™ Collection is available exclusively on Zazzle.com, includes hoodies, t-shirts, trucker hats, tote bags, key chains, and other accessories - even a new, official U.S. Postage stamp. Check out the trucker hat!
A portion of proceeds of the Love Does Not Discriminate™ Collection will go to support a new public awareness campaign by the same name, dedicated to helping homeless dogs find true love and keep forever homes with responsible owners.
Breed Discrimination - Just Plain Wrong
"Discrimination is wrong - whether against people or dogs".
Love Does Not Discriminate™ is about breaking the myths and stigma concerning certain breeds of dogs", said Mahlon Goer, of the Dog Federation of New York.
The yearlong Love Does Not Discriminate™ public awareness campaign kicked off in mid-town Manhattan with assistance from local My Dog Votes™ affiliate, the Dog Federation Of New York.
More than forty different breeds of dogs are victims of breed discrimination, including mixed breed dogs. "We want Peter Vallone - and politicians in New York and elsewhere - to clearly understand it's about responsible ownership.
Documentary filmmakers Rebecca Friedman and Pryria of NYU Film School were on hand to film the launch of Love Does Not Discriminate™ for their upcoming piece about breed discrimation. The film will premier later this year in New York (stay tuned for details).
To help fund adoption efforts of targeted breeds, My Dog Votes™ has made the Love Does Not Discriminate™ Collection and Postage Stamp available exlcusively through Zazzle. Zazzle makes the products more affordable but widely available - they will ship any Love Does Not Discriminate™ product anywhere in the world.
Wanna Lick BSL?
Now you can! Just lick a stamp and send your friends, family and your favorite politicians a love letter says that breed discrimination must end.
But even more importantly - Zazzle is a great way to fund the work of local dog groups that are engaged in fighting breed discrimination - these are the real people who are making a real difference every day to help save innocent dogs.
Local dog clubs, shelters and rescues are eligible to earn a percentage of sales by signing up with the Zazzle Associates Program. They simply place the My Dog Votes™ Zazzle Associate links in their emails or on their websites, and when their members, supporters and friends make a Love Does Not Discriminate™ purchase through the associate's website, the money goes to that group. Brilliant!
The Key To Ending Breed Discrimination
Let's recap, shall we? By shopping, we can help more organizations share the message of love and responsible ownership with the public, the press and politicians. By shopping, we can give groups fighting BSL the funding they need. And just by shopping - we may hold the key to ending breed discrimination.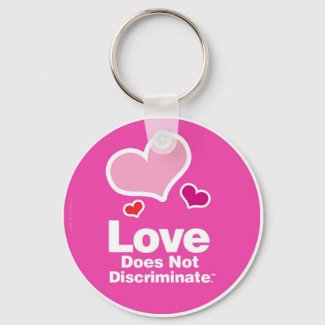 Love Does Not Discriminate Keychain by MyDogVotes
Get this at Zazzle
Love Does Not Discriminate™ is a forever Valentine that goes out to all the good Rottie
girls, Bully boys, Sweet Shepherds and adorable Dobermans, and to all those deserving dogs that need homes, or whose homes are threatened by breed discrimination.
It's time to end this shameful practice, and the political opportunism and unethical reporting that drives ignorance, fear and hatred.
Does Your Legislator Discriminate?
Does your legislator unfairly discriminate against your dog? Does your legislator unfairly discriminate against you for owning the "wrong breed" of dog?
You can remedy that situation.
First - You can end breed discrimination by sending your favorite politicians a Love Does Not Discriminate Valentine any day of the year - with a big, smoochy, wet kiss from your favorite pitbull or Rottweiler.
Second - you can help educate your favorite politician by showing them how much you love your dog, and how much you love to vote.
Love your dog? Get out and vote! And make sure that your local legislators know just how much you love to vote.
Voting is love. Love is voting.
A Higher Power
Love is a much higher power than hate. Love cannot be stopped - it cannot be contained. They can try to seize it, ban it, or even exterminate it.
In the end, love will endure.
In the meantime, get out and vote.