You'll want to stay updated on this case and its potential impact on pet ownership - read that as ANY animal ownership. Dog owners & others - take note!
Dr. Mary Zanoni of Farm For Life, a leading attorney in the opposition to NAIS, reported that the very first lawsuit to challenge the National Animal Identification System (NAIS) Premises Registration was filed yesterday in state court in Pennsylvania. (Information on NAIS is below).
In Landis v. Wolff, James Landis, a Mennonite farmer from Lancaster County, is challenging the PA Department of Agriculture's demand that Mr. Landis submit to the NAIS Premises ID requirement, as a violation of Mr. Landis' constitutional rights to freely practice his religion. You can download a copy of complaint HERE: Download LandisComplaint.pdf
The PA Dept of Agriculture plans to strip Farmer Landis of his ability to take his ducks to market in New York City, which will result in the loss of his livelihood, if he fails to comply with a supposedly "voluntary" Premises ID requirement of the National Animal Identification System.
In response to the filing, the Commonwealth Court of Pennsylvania ordered that a hearing on a request for a preliminary injunction be held on Thursday, June 28, 2007, in Harrisburg, PA.
NAIS - The Evil Master Plan
What exactly is NAIS, you ask?
The National Animal Identification System is that evil master plan pushed by big industrial agribiz conglomerates - Cargill, Monsanto, etc. to mandatory microchip, track and control every living creature, starting with farm or livestock animals.
Btw - as an animal owner, that includes tracking all of YOUR data and activity as well.
NAIS is also backed by some highly-placed, high-tech companies, with lots of former elected officials who have bailed out of government to jump on board the gravy train in this lucrative private sector.
Why? These microchip firms and defense contractors, database managment firms and other government suppliers will make BILLIONS off the RFID chips, tracking technologies and database managment services that will be required if the NAIS becomes law.
Not to scare you BUT NAIS is due for implentation in 2008. Wakey wakey, dearest dog owners.
Critics say NAIS not only violates constitutional rights, violates privacy for all animal owners, but NAIS will put small family farmers, organic farmers and small ranchers out of business, leaving only the heavyweights to provide food for America's tables. (I told you it was evil, didn't I?)
So how did an Evil Master Plan like NAIS plan make the leap into to government?
Why through the generous efforts of the ever-accomodating members of the first Bush Administration, of course.
Masters Of The Evil Plan
The NAIS plan took the conspiracy strategy & cooperation of three senior Three Bush Babies Bush advisors to make NAIS happen:
Tom Ridge - Secretary Department of Homeland Security. Coincidentally, did you know that when Tom Ridge left the Bush Administration, he took a gig with a microchip company?

Tommy Thompson - Secretary Department Of Health & Human Services. Coincidentally, did you know that when Tommy Thompson left the Bush Administration, he took a gig with a microchip company? ( He just resigned his post at Digital Angel to run for Prez - be VERY afraid).

Rick Santorum - Chair, USDA Subcommittee on Research & General Nutrition. Coincidentally (besides being famous for his Man-On-Dog comments) - did you know that the global trade association for RFID is headquartered in Rich Santorum's (former) backyard in Pennsylvania?
The Plan A & Plan B - Chip 'Em, Track 'Em, Charge 'Em
Ok, dog lovers - I've written about NAIS before, and its clear relationship to pet owners.
NAIS is to farm animals what the PAWS Bill is to pets (no, Virginia, PAWS is not about stopping puppy mills).
At the center of NAIS and PAWS is/was Rick Santorum. Rick Santorum chaired the USDA Senate Subcommittee that was responsible for the fake anti-puppy mill bill - the PAWS Bill, (Plan A) and.......(drumroll, please).... Rick Santorum chaired the SAME USDA Senate Subcommittee responsible for NAIS (Plan B).
And the really juicy part of both the NAIS & PAWS plans is how the microchip industry (and his former colleagues in the Bush Admin) will make BILLIONS once the government requires the mandatory microchipping of all animals. Ooooo - oh yeah - and how the goverment will track the data of most citizens by tracking the data of their animals. But more about that in a minute...
You can read more about Rick Santorum here: - The PAWS Bill - Show Me The Money, Microchips & Political Power, and also Chipping Santorum)
Are Pets (and YOU) Next?
What's really important for EVERY pet owner to understand is that the USDA has not ruled out including pets under the National Animal Identification System.
That's right all you dog owners, cat owners, you people with bunny rabbits and birds, reptiles and snakes, ferrets and other furballs -there is a strong liklihood that just down the road, the NAIS will include YOU.
Pet owners need to be aware of the NAIS and its three insidious components....................
Those three key NAIS components include:
1) Premises ID
This requires every person owning even one bunny, one goat, chicken or horse or cow to register their premises or home, including their name, address, telephone which is then keyed to a Global Positioning System under a 7-digit premises ID registration number an enormous federal database.
That way when they zoom onto your location from the satellite view (see Google Maps) they can see if you're lying about how may animals are out in your yard or pasture. (This may include pets in the future.)
2) Animal ID
Next, EVERY animal on the premises is required to receive a unique 15-digit identification number in the form of an electronic tag or a RFID microchip.
Additional forms of animal identification may include collect DNA from every animal as well as a retinal eye scan. Yup. Eye scans.
With an RFID chip implanted, they can track the movement of animals - and you. Think about how the government uses this same technology on wrist bracelets and other monitoring devices to track prisoners or those on parole or under house arrest).
(This may include all pets in the future.)
Animal Tracking
Animal owners are required to:
Report the date of birth of every animal
Report the date the animal was tagged or microchipped
Report every time an animal leaves or enters the property
Report a lost of missing RFID chip or tag
Report the death or slaughter of any animal
Report whether the animal is missing.
How will this potentially affect pet owners or ethical home breeders?
This means you will be required to:
Report the birth of all litters
Report the number of animals in that litter
Report when you chipped the babies
Report when you go to a dog or cat or horse or rabbit show, 4H fair, pet expo, agility event, rescue or adoption fair
Report when you return
Report if one of your dogs/cats/ferrets goes missing
Report if you've euthanized a pet, etc.
This type of surveillance used to be reserved for criminals - mafia bosses, drug dealers. That is unless you you own a pitbull - or a Rottweiler. OR - you live in California and you're dealing with CA 1634. In that case - the future is now. We know.
However, how the government seems to think that we should all play a role in self-reporting on our own state-mandated surveillance.
Now the requirement to report all of these milestones to the government represents building a database history on each animal - as well as building an overall profile on YOU. How many animals, how may litters, how many sold. Which activities you participate in (agility, field trials, flyball, weightpull, adoption events, etc. ) and how often.
Oh - btw - did I mention the capability for sharing wthis data with other government entities or even private interests?
Such as the pharmaceutical industry - would they LOVE the data to try to sell even MORE product? Force you to give your animal drugs or medications at particular milestones? How about the insurance industry - they would LOVE this data!. Betcha the insurance industry is already foaming at the mouth, haha - pun intended.
There Was A Farmer With A Duck
Farmer Landis raises Muscovy ducks at his family farm in Lebanon County, PA and has long participated in the Avian Influenza Monitoring Program of the Pennsylvania Department of Agriculture (PDA) as he sells his ducks to live bird markets in New York City.
In April 2007, the PDA notified Landis that he must accept a federal NAIS Premises ID number for his farm, or the PDA would no longer approve his birds for shipment to New York as of June 30, 2007.
Mr. Landis is a Mennonite, and has a religious objection which prevents him from accepting the federal premises ID number and he faced the loss of his family's livelihood because of the PDA's insistence on compelling him to accept the number.
Forcing Compliance For A "Voluntary" Law?
Despite the fact that a bill to require premises registration failed to become law during the 2005 session of the Pennsylvania General Assembly, the PDA has been trying to compel farmers to accept federal premises ID numbers. At the federal level, the USDA maintains that its premises ID program is "voluntary."
Farmer Landis is represented by Leonard Brown and Clymer & Musser of Lancaster Pennsylvania with extensive experience in litigating constitutional and civil rights issues at the trial and appellate levels in both state and federal courts.
Providing assistance is the Alliance Defense Fund (ADF) of Scottsdale, Arizona, one of the nation's leading public-interest legal organizations, supporting and pursuing litigation on religious-freedom issues at the trial and appellate levels, including the United States Supreme Court.
Hey Wayne - Pony Up, Baby
Gee - I wonder where HSUS is - you know those anti-factory farming crusaders? The Humane Society raises MILLIONS each year to fight factory farming practices and gee - Dont'cha think they would wanna help out Farmer Landis fight the forces of instrusive goverment and agricultural industrial conglomerates with all cash in their warchest?
Wayne Pacelle - it's time for you to put your money where your MOUTH is, honey. Time to belly up to the bar with some bucks, baby. HSUS - show us the money!
Support Local Farmers
If you'd like more information on opposing NAIS in your state? Subscribe to the Farm For Life Newsletter. Contact:
Farm for Life
Mary Zanoni, Ph.D.
P.O. Box 501
Canton, New York 13617
mlz@slic.com
Wanna keep up with the lastest NAIS-related information? Then read the blog that's got all the juice, written by organic pig farmer, Walter Jeffries, of Sugar Mountain Farm in Vermont:
Visit: www.NoNAIS.com
Help defend Farmer Landis' constitutional rights. Donate to his legal challenge:
Alliance Defense Fund - www.TellADF.org
Political Accountability
Every pet owner across the land should be watching this case and be reminded that with the whoosh of a pen, EVERY ANIMAL - including your precious puppies and your cute kitties will be included in the Evil Master Plan that is NAIS.
So I have a message for any elected official that thinks that NAIS is a good idea. Ready.....................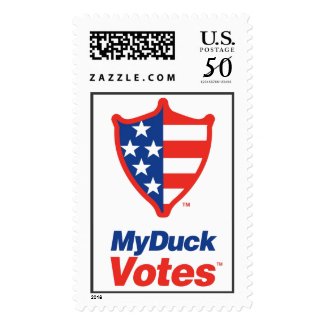 My Duck Votes USA Stamp
by
MyDogVotes
Get this
custom postage
at
Zazzle
There ya have it boyz n grrls. Now get out there and do something good.