Two ranking Democrats - Senators Tom Harkin (D) of Iowa and Patrick Leahy (D) Vermont - have moved to deny American citizens the right to file a FOIA (Freedom Of Information Act) form with respect to the hotly contested National Animal Identification System in this year's Farm Bill.
Incredible as it is - Tom Harkin & Patrick Leahy seem to be doing the bidding of giant factory farming interests and RFID chipmaker, Digital Angel by preventing the American People from finding out WHO and WHAT is in the NAIS database.
How? By burying a provision in this year's Farm Bill that prohibits FOIA disclosure of data contained in the USDA's National Animal Identification System database, that's how.
What's that? DEMOCRATS covering stuff up - burying tricky language deep in a bill? DEMOCRATS helping giant congomerates (and perhaps helping themselves at the same time?)?
Yeah- I'm talking about you - Harkin & Leahy.
Dems Supporting Secret Databases
In a move that's more befitting of the Bush Administration, Harkin and Leahy are lining up to deny - no, make that destroy - transparency in government by eliminating the ability for citizen's to FOIA records from the (allegedly voluntary) NAIS database.
For all of the outcry from Democrats over the last years about the Bush Adminstration's abuses of power - the secret databases, demanding and GETTING customer records from phone companies and airlines, about secret detainee camps and the Justice Department dispensing with the need to obtain warrants.........
And just plan erasing constitutional proctections and ignoring the Rule of Law.
But now it's the DEMOCRATS who are making secret databases and it's the DEMOCRATS that are now planning to DENY us the the ability - no the RIGHT- to access the NAIS infomation citing Homeland Security.
And they call themselves Dems??? Registered Democrats (like me) will be lining up to cross party lines if this baby goes through.
Are you listening Howard Dean? Hilary? And Joe Trippi - Dem media guru (or should I say media slut?)
But maybe the labels "Democrat" and "Republican" are meaningless. Maybe things are so blurred anymore that it doesn't matter who says what on which team.
Maybe it's just all about greed and power no matter which side you're on.
Cartel To Chip n Track All Living Creatures
As you know - the National Animal Identification System is the plan by giant AgriBiz/Factory Farmers, Digital Angel (RFID Micochip maker) and the government - to chip and track every living creature.
That also means that through the chip - they will be tracking YOU - and YOUR DATA as well. Get it?
NAIS basically forms a cartel that will force microchipping of ALL animals, and allow chip makers and GIANT AgriBiz to divvy up the cash, divvy up the data and divvy up the resulting control amongst themselves - and drive small family or organic farmers or ranchers to their knees or out of business.
So - answer the question, Senators - "How much money didja get from them in campaign contributions, huh?"
Sneaky Senators Block FOIA Disclosures For Digital Angel?
Senator Tom Harkin saw to it that buried in this years' Farm Bill - which was sponsored by Senator Patrick Leahy- was a sneaky provision contained in Section 10305.
Section 10305 of the Farm Bill - Protection Of Information In The National Animal Identification System now "protects" that information from being disclosed to you and me - and all those local farmers they are now tracking under the PRETEXT of food safety.
But mainly it protects the government - and Digital Angel and the giant factory farm conglomerates from you and me having access to this giant NAIS database.
It seems they don't want you to see how much information they are collecting AND they don't want you to know who else is getting access to it.
Get The DownLo On NAIS Via The Download
Dr. Mary Zanoni - one of the country's experts on NAIS - has once again written a BRILLIANT paper that outlines this travesty.
You can download Dr. Zanoni's paper on this latest move from the Viriginia Independent Consumers and Farmers Assication here: https://www.vicfa.net/zfoia.pdf
All of this NAIS business is leaving a very dirty taste in the mouths of people - and leaving Dems scratching their heads.
Tom Harkin and Patrick Leahy have left small organic farmers and ranchers - and indeed all animal owners - with the idea that they have been marked for extinction.
Call Your Senator - Vote NO on Farm Bill
Will you let them get away with this? I don't think so.
Shake a leg, people - call YOUR Senators TODAY and DEMAND that Section 10305 be REMOVED from the Farm Bill or that your Senator VOTE NO on the Farm Bill.
Now most of you know of my vehement opposition to mandatory microchipping when it comes to pets - especially forced chipping and track of pitbulls and their owners (just like SEX OFFENDERS), which is why I launched My Dog Votes - the tshirt company dedicated to Saving Dogs and Democracy.
So you should know that forcing other animal owners to chip and forcing them into a giant database is pretty much the same thing as forcing pitbull owners to chip their dogs and forcing pitbull owners into a giant database so the governemtn can track all you "criminal" pitbull people.
And why should you care about farmers? Why should you care about NAIS??? Well - Maybe because it's the right thing to do.
And if that's not good enough for you then get this: The USDA has not exempted pets from NAIS - the National Animal Identification System.
Get it now???
Harkin & Leahy - They Ain't Farm Friendly
So with that - I urge you all to stand up for small, independent farmers and ranchers and send your Senators - and especially Tom Harkin and Patrick Leahy - a clear message.
Tell your Senator that if they ain't Farm Friendly, and they support this FOIA exemption and NAIS - then come Election Day you plan to Go Hog Wild in the Voting Booth -
Tell your Senator that My Pig Votes!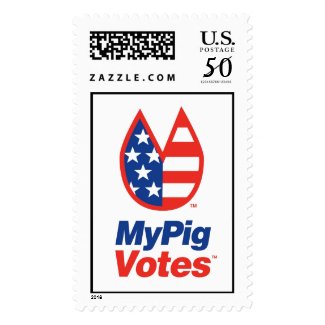 My Pig Votes USA Stamp
by
MyDogVotes
Get this
custom stamp
at
Zazzle